Orange, Durham and Chatham Counties, Inc.
Orange, Durham and Chatham Counties, Inc.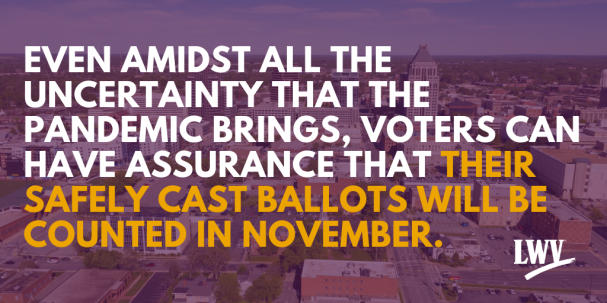 August 4, 2020. A federal district court issued a preliminary injunction mandating that North Carolina election officials must offer voters who submit absentee-by-mail ballots notice and opportunity to be heard before their ballots with correctable errors can be rejected. Democracy North Carolina is a co-plaintiff in this suit alongside the League of Women Voters of North Carolina and a group of individual plaintiffs. Read More: Democracy NC Press Release, LWVNC Press Release, and Federal Judge's Opinion.
Count Down to November 3, 2020 Elections
In NC, You Can Register to VOTE ONLINE!
Spread the Word!!

Voting is a Right
Register to vote
and VOTE!!!! Voting is your chance to elect those who will make decisions about our economy, education, environment, and health care. Use VOTE411 to identify your voting location, your registration status, and candidates and their responses to important issues at the local, state and national levels.
Check LWVODC Google Calendar for Meetings and Events