Suffolk County
Voter Services | Local Debates | Contact Us
The League of Women Voters is a nonpartisan political organization encouraging informed and active participation in government. It influences public policy through education and advocacy.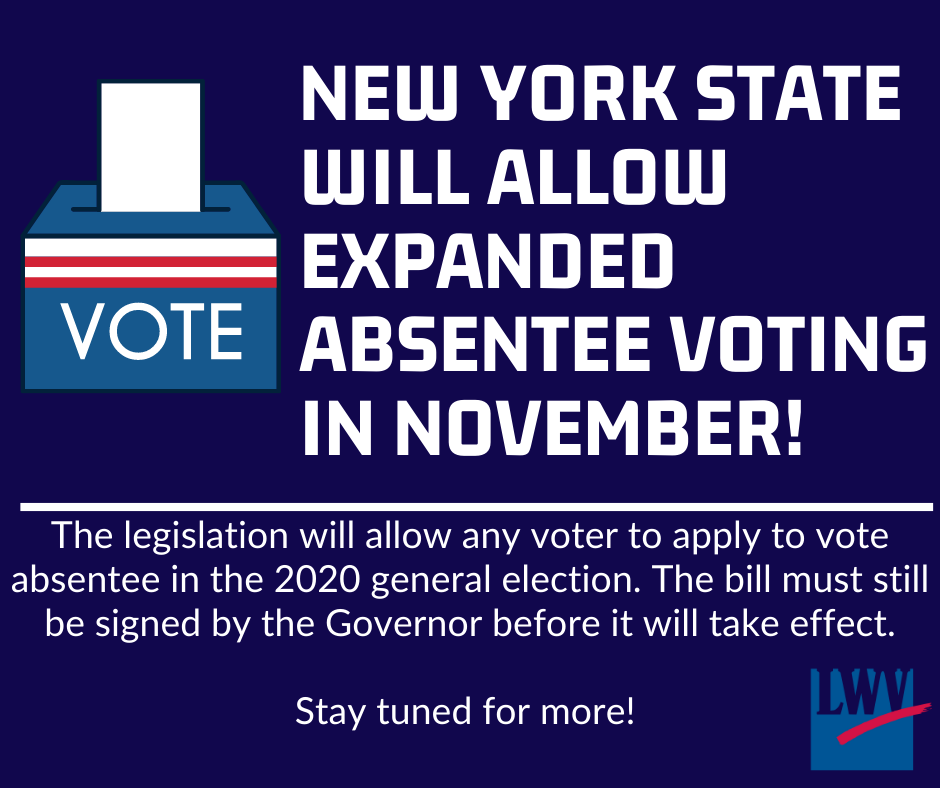 Still Time to Take Action on Safe Voting Reforms for November!
Today the New York State Senate Committee on Election Law took up legislation to expand access to the ballot for the general election during the ongoing coronavirus outbreak.
The Senate moved the following bills to additional committees or to the floor calendar to be voted on later this week:

These bills will ensure that voters have the opportunity to vote via absentee in November without worrying whether or not their absentee vote will count.

We still need help to get these bills across the finish line. Call your legislator now and tell them to act swiftly and pass the entire this slate of voting reforms.

Sample Email/Call Script:

The coronavirus has impacted many areas of our state elections. Voter registration numbers are down, voters are concerned about voting in person during the ongoing pandemic, and those who want to vote by absentee ballot are worried their vote may not be counted.
I am calling to urge the Senator/Assembly Member to support legislation that would ensure all voters have the opportunity to request to vote by absentee in November.
Voters deserve to vote safely and know their vote is counted which is why I urge the member to support additional legislation that would give voters notice if their absentee ballot has issues that may invalidate their vote and ensure ballots that arrive within the deadline but without a postmark date are still counted.
Finally, I want to urge the member to support automatic voter registration. New York State's voter registrations have been hugely impacted by COVID-19. Automatic voter registration will ensure no eligible voter is unable to vote because they are not registered.
I hope you will pass along my comments to the Senator/Assembly Member. Thank you.

Don't Delay! Take Action Today!
Visit the Suffolk County Board of Elections here.
If you have questions about your NYS primary absentee ballot, call the Suffolk County Board of Elections at 631 852-4500.

DO NOT CALL THE LEAGUE OF WOMEN VOTERS about missing ballots at this date, we are not affiliated with the Board of Elections and thus would have to re-direct you to them. Even if you've requested an absentee ballot, you may instead vote in person- that is the vote that will be counted for you.
Sign up for the League's new text alert system to get real time updates on voting changes related to COVID-19.

Text VoteNY to 474747
If you need information from the League of Women Voters please lwvsuffolk [at] gmail.com (email) or leave a message at 631 862-6860.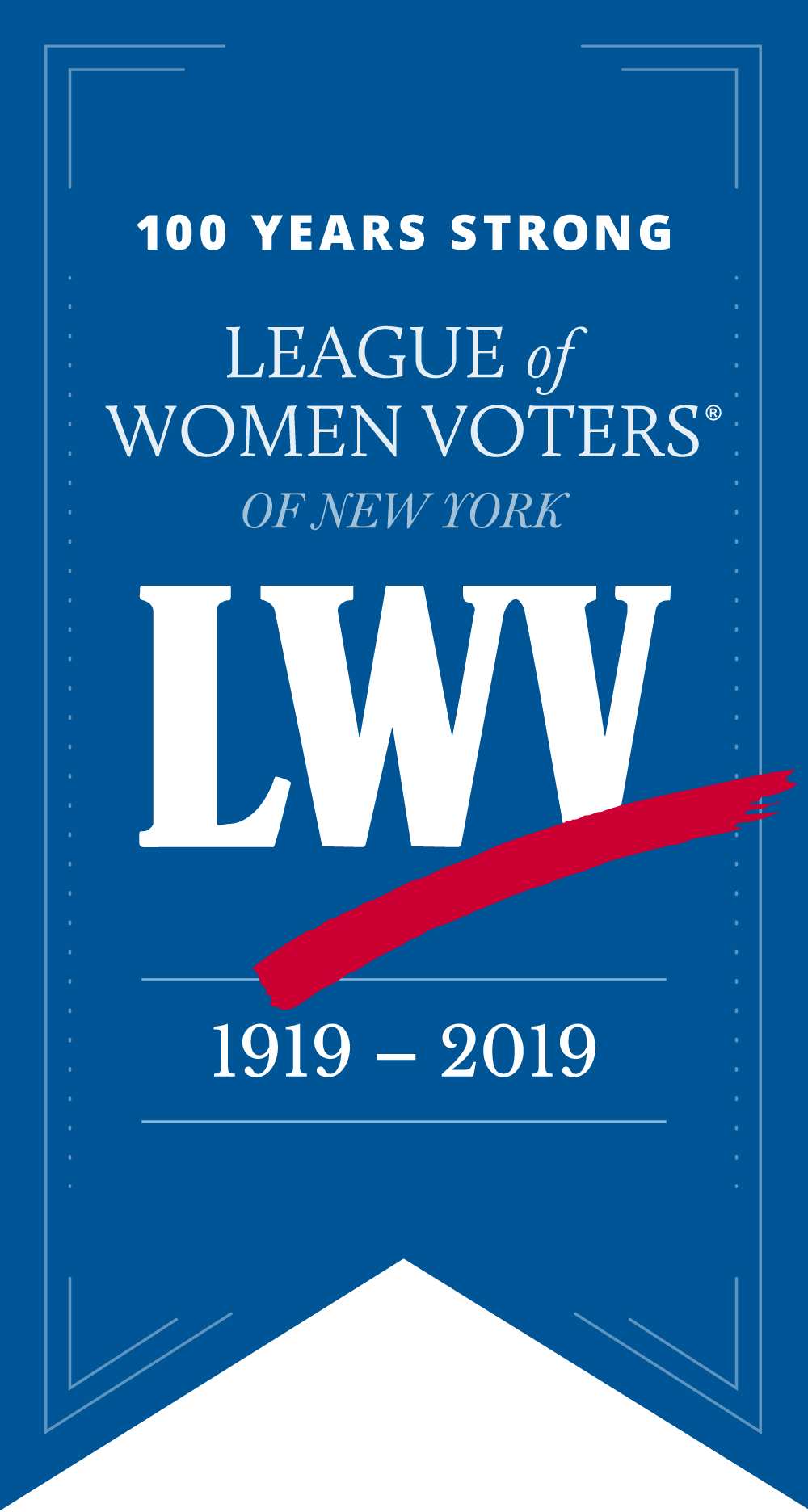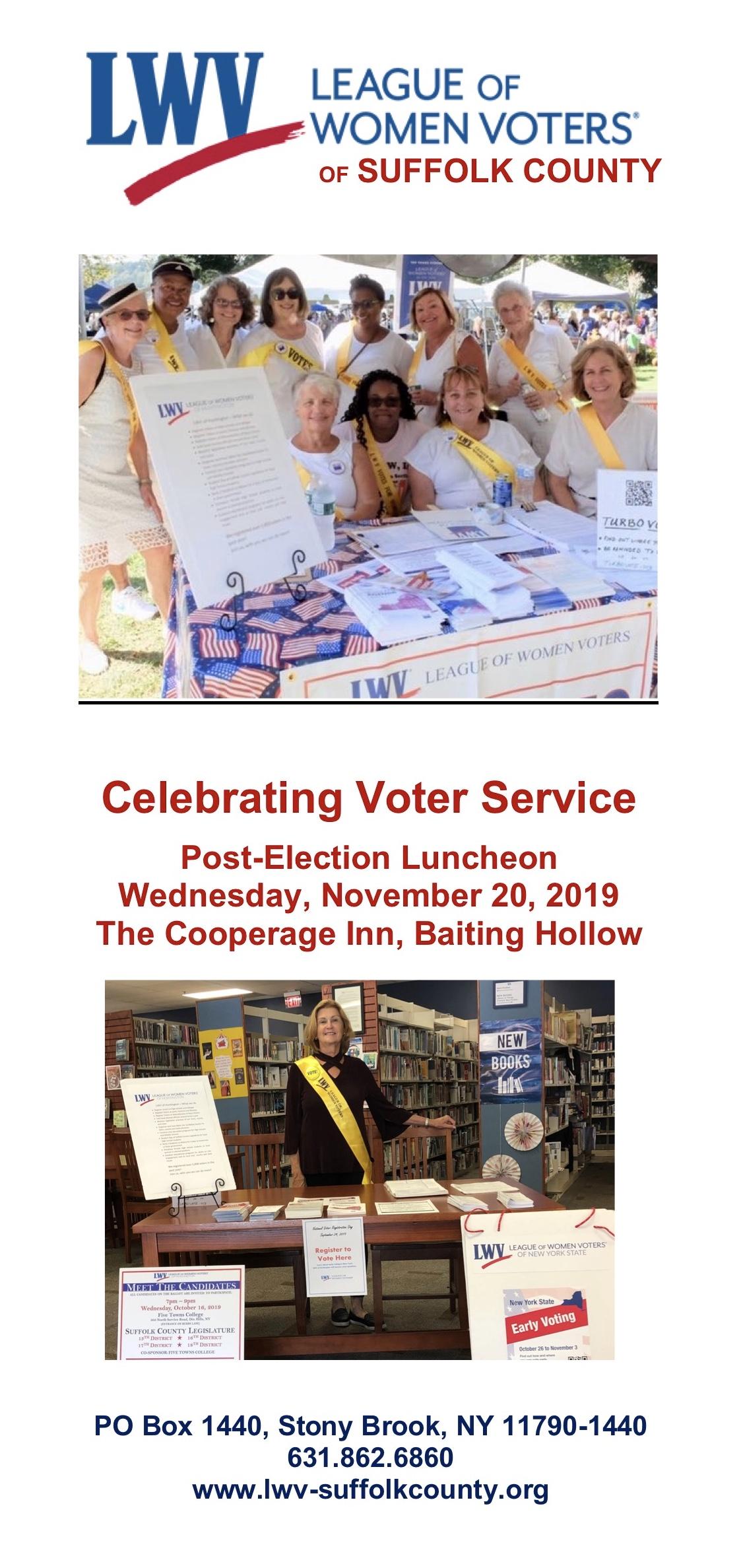 The League of Women Voters of Suffolk County, and local Leagues in Brookhaven, Hamptons, Huntington, Shelter Island and Smithtown spend countless hours on voter registration, voter education, candidate debates and voter service. Please click on the trifold cover above to read the impressive list of LWV voter service activities in 2019. You can help in 2020- contact a local League or consider making a tax-deductible donation to our Education Foundation.